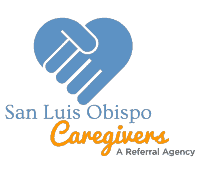 To All Independent Caregivers registered with San Luis Obispo Caregivers:
First, thank you for providing excellent, caring services to our clients. We hear great things about you from them. You are the face of our agency and we truly appreciate all that you do for the clients and families.
Starting January 1, 2020, all Independent Caregivers on our registry will be required to be registered with the State of California. We are taking this step to ensure that all caregivers working with our clients have been thoroughly screened and are current with TB clearance. If you are already registered, that's great! Just be sure to keep your registration current. If you are not registered, here are the steps to get you there:
1. Go online and read instructions for independent workers http://www.cdss.ca.gov/inforesources/Community-Care/Home-Care-Services/Resources-for-Home-Care-Aides
2. Get a Livescan of your fingerprints. The links below direct you to the form and to locations that provide Livescan services. The fees listed are for performing the fingerprinting and they are in addition to the DOJ/FBI fees for performing the searches. Those fees range from $75-$90. http://www.cdss.ca.gov/cdssweb/entres/forms/English/LIC9163.PDF
https://oag.ca.gov/fingerprints/locations?county=San Luis Obispo
3. Proof of tb test
We also highly recommend you get your own liability insurance. Health Care Liability Insurance through HPSO is available at a competitive rate. Please call (800) 982-9491 or go online www.hpso.com to sign up.
Let us know if you have any questions about getting registered with the State.
Thank you again for all you do!